The Third National Consensus on Management of Hepatitis C in Iran
Hepatitis C treatment has been revolutionized through recent years. The curative therapy is available but there is long way to eradicate HCV. A One-day Scientific Leaders Meeting on Hepatitis C Treatments along with Consensus on Management of Hepatitis C in Iran was held on July 22, 2016, hosted by Iran Hepatitis Scientific Board-Iran Hepatitis Network in Razi Convention Center, Tehran, Iran.
Please visit the conference output via this link: www.hep.ir.
Look forward to seeing you in the next THC conference in september 2017.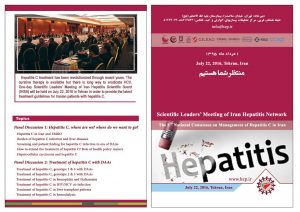 Abstract Submission in THC7
The Abstract submission has been open since 4 February 2017. All scientists around the world can submit their research studies through the official website; www.abstract.thc7.ir. The deadline for submission is 30 June 2017 and the notification for abstracts will be sent to the submitting author in 14 July 2017. The accepted abstracts will be published in supplemental issue of Hepatitis Monthly journal.
It will be our pleasure to have you in THC7.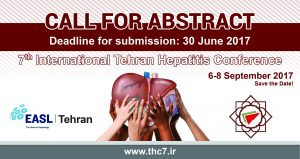 Viral Hepatitis Elimination Drawing Contest
The 1st drawing and illustration contest with the theme of "viral hepatitis elimination" will be held during 7th international Tehran Hepatitis Conference.
The main subjects:
Hepatitis and Transmission Routes, Hepatitis and Treatment, Hepatitis and Society, Hepatitis and False Beliefs, Hepatitis and Stigma, Hepatitis Prevention, Hepatitis Elimination, NOhep, and NOhepatitis
The artworks will be displayed at the "Painting Gallery" of 7th International Tehran Hepatitis Conference (THC-7), 6-8 September 2017.
All can send us their artwork/s through the official website; www.thc7.ir/drawing. The deadline for submission of artworks is 6 July 2017.
Enjoy the exquisite Awards