Young Investigators' YAS Award
As the important impact that young people have in the science, we should encourage them to be more active in this field. We have had six Tehran Hepatitis Conferences (THCs) in which many specialists from Iran, the region and other parts of the world have taken part. Many of them have been young investigators. Therefore, We would like to attract young people to participate actively in the conference and research activities in the field of hepatology. The "Yas Young Investigator Award" in Hepatology is a scientific award, which is going to be presented to the top young researcher with novel experiences in the field of hepatology for the second time. This award belongs to one designing a new integrated  modalities for diagnosis and treatment of liver diseases, publishing original articles with high impact factor, sharing the experiences with others, and being more active in social support of patients. This award was founded in 2015 by Prof. Seyed-Moayed Alavian, Professor of Gastroenterology and liver disease and editor-in-chief of the Hepatitis Monthly Journal, the only specialized journal pertaining to liver disease in the Middle East and Central Asia.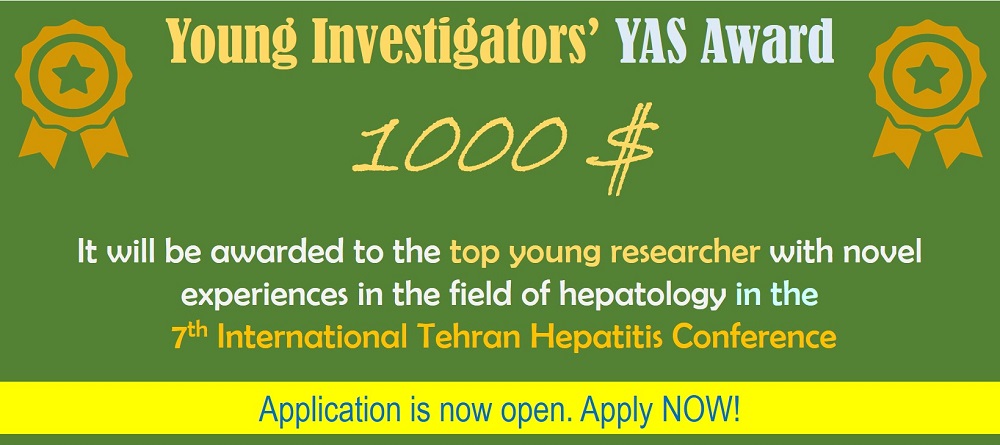 ---
Awardee will be acknowledged during the opening ceremony.
Awardee will receive a cash prize of 1000$ and YAS award certificate from the top Iranian scientists in the field of hepatology.
Opening of application: 1st May-2017
The deadline for application: 1st July-2017
---
Selection criteria:
Age under 40 years
The applicant's abstract should be accepted for presentation at our conference
The applicant should have published articles in the field of liver diseases
Scoring is based on published papers in the field of liver diseases (below formula)
Papers should be published online before 1st June-2016
---
The

baseline score

for each publication is one (1)
Plus

two scores

if they are the first authors (+2)
Plus

one score

if they are the corresponding authors (+1)
Plus

two scores

if the published paper is PubMed-indexed (+2)
Plus

(1 * Impact Factor) score

if the published paper is ISI-indexed (+ IF)
Allowed types of articles are Original Paper; Meta-Analysis; and Brief-Report/Short-communication.
Other types of articles (letter-to-editor/correspondence/commentary/editorial) will not be scored.
The score will be

divided to 2

in case of brief-report/short-communication articles (1/2)
Click HERE to see the online application form.
---
The winner of previous YAS award was Mrs. Christine Hartoonian